News of the Day
Supreme Court Same-Sex Marriage Ruling Likely to Land in Term's Finale
New York Times, September 29, 2014
WASHINGTON - There are lots of open questions about the road the Supreme Court justices will take to a final decision about whether the Constitution guarantees a right to same-sex marriage. But one thing seems clear: the answer will arrive next June.
The endgame started Monday morning. At their first private conference of the term, the justices were scheduled to consider, among many other things, seven petitions urging them to hear appeals from decisions striking down bans on same-sex marriage.
Click here to read the complete article.
---
The Smartest Constitutional Argument for Marriage Equality That No One Is Making
Slate.com, September 29, 2014 By Susannah W. Pollvogt and Catherine E. Smith
The justices of the U.S. Supreme Court meet on Monday to consider whether they should tackle the issue of same-sex marriage this term or give the lower courts more time to grapple with the question and flesh out the legal theories involved. What is perhaps most interesting about the evolution of this issue is that to date all the courts addressing the question have missed one remarkably simple proposition: Bans against same-sex marriage are unconstitutional as a matter of law because they punish children in an effort to control the conduct of adults.
Punishing children for matters beyond their control is patently impermissible as a matter of Supreme Court precedent regarding the constitutional rights of children. In the first of these cases, the court considered a Louisiana law that forbade children born out of wedlock from receiving benefits upon the wrongful death of their mother. Louisiana argued that the law was a perfectly legitimate means of expressing moral disapproval of extramarital liaisons. The Supreme Court, however, determined that the law violated equal protection because it is fundamentally unfair and irrational for a state to deny important benefits to children merely to express moral disapproval of the conduct of adults - or to incentivize adults to behave in a particular way.
Click here to read the complete article.
---
Number Of Mayors Supporting Gay Marriage Hits 500
September 24, 2014 by ontopmag.com
Mayor Steve Benjamin of Columbia, South Carolina is the 500th mayor to pledge support for the legalization of gay marriage.
Benjamin is the latest mayor to join the group Mayors for the Freedom to Marry, which launched two years ago with 80 mayors.
Click here to read the complete article.
---
Louisiana Judge Strikes Down State's Gay Marriage Ban
September 23, 2014 by Carlos Santoscoy
A Louisiana judge has declared unconstitutional the state's ban on gay marriage.
District Court Judge Edward Rubin said in a 23-page ruling handed down Monday that the ban violates the 14th Amendment and the U.S. Constitution's full faith and credit clause.
Click here to read the complete article.
---
Seeking a Same-Sex Marriage Case Fit for History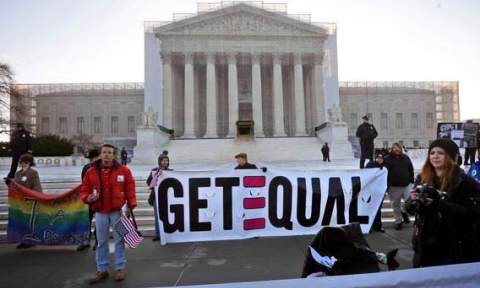 22, 2014, by Adam Liptak - New York Times
WASHINGTON - The jockeying among the titans of the Supreme Court bar for a place at the lectern when the justices hear the next same-sex marriage case is as understated as it is unmistakable.
In a half-dozen briefs filed in recent weeks, some of the best lawyers in the nation spent many pages arguing that their case was the right one in which to establish a nationwide right to same-sex marriage. They pointed out the attractive features of their own cases and the shortcomings of others.
In legal jargon, streamlined cases without procedural pitfalls are said to be good vehicles. That made the fancy lawyers sound a little like car salesmen.
The case from Virginia, one brief said, is "an excellent vehicle." The one from Wisconsin, said another, is "an ideal vehicle." The one from Utah, perhaps the leading candidate, was said to be, with the swagger of understatement, "an appropriate vehicle."
Click here to read the complete article.
---
Texas Denies Driver's License To Married Lesbian
September 20. 2014 - ontopmag.com
The Texas Department of Public Safety (DPS) is refusing to issue a drivers license to a lesbian married in California.
The agency claims that due to the state'' ban on gay marriage it cannot accept Connie Wilson's California driver's license or federal Social Security card to issue her a Texas driver's license.
Click here to read the complete article.
---
Judge Delays Ruling On Case Challenging West Virginia's Gay Marriage Ban
September 19, 2014 by Carlos Santoscoy
A federal judge has delayed ruling in a case challenging West Virginia's ban on gay marriage.
Chambers said due to the "overlap of issues" in a similar case from Virginia, he would wait until the U.S. Supreme court decides, the AP reported.
Click here to read the complete article.
---
Latino Leaders In Arizona Endorse Gay Marriage
September 18, 2014 - ontopmag.com
A group of Latino leaders in Arizona have endorsed marriage equality.
According to alternative weekly the Phoenix New Times, the group announced its support at a Phoenix event organized by Why Marriage Matters Arizona.
Click here to read the complete article.
---
Ginsburg: Watch 6th Circuit on Gay Marriage
New York Times - September 16, 2014
MINNEAPOLIS - People seeking clues about how soon the Supreme Court might weigh in on states' gay marriage bans should pay close attention to the 6th Circuit Court of Appeals, Justice Ruth Bader Ginsburg told a Minnesota audience Tuesday.
Ginsburg said cases pending before the circuit covering Kentucky, Michigan, Ohio and Tennessee would probably play a role in the high court's timing. She said "there will be some urgency" if that appeals court allows same-sex marriage bans to stand.
Such a decision would run contrary to a legal trend favoring gay marriage and force the Supreme Court to step in sooner, she predicted. She said if the appeals panel falls in line with other rulings there is "no need for us to rush."
Click here to read the complete article.
---
Plurality Of North Carolinians Support Gay Marriage
September 16, 2014, ontopmag.com
A poll released Monday for the first time found greater support for marriage equality than opposition in North Carolina.
Pollsters at Elon University surveyed more than 1,000 likely voters for its Elon University Poll.
Click here to read the complete article.
---
Appeals Court Extends Stay In Indiana Gay Marriage Ruling Pending Supreme Court Decision
September 16, 2014, by Carlos Santoscoy
A federal appeals court on Monday set aside its decision striking down Indiana's ban on gay marriage until the U.S. Supreme Court weighs in on the matter.
In an unanimous September 4 ruling, the Seventh Circuit Court of Appeals in Chicago knocked down similar prohibitions in Wisconsin and Indiana, finding each to be unconstitutional.
Click here to read the complete article.
---
Lawmakers back gay marriage, union bills in Wyoming

By Kevin Huelsmann,
Jackson Hole, Wyoming
January 15, 2013

For the first time in his career, Jackson Republican Rep. Keith Gingery is backing a gay marriage bill.

After eight years in the Legislature, Gingery has signed on as a co-sponsor of two measures sanctioning same-sex unions.

Laramie Democratic Rep. Cathy Connolly filed legislation late Monday afternoon that would create a path for gay couples to form civil unions or get married.

The dual approach already has won the backing of Reps. Ruth Ann Petroff, R-Jackson, and Gingery. Both Teton County lawmakers said they would prefer to see gay marriage allowed in Wyoming but are willing to debate whether civil unions might be a better way to go.

"It's a basic human rights and fairness issue," Petroff said Monday. "It's a basic constitutional issue. There should just be no reason why same-sex couples shouldn't have the same rights as everyone else."


Click here to read the complete article.
---
Rhode Island House To Vote On Gay Marriage In January, Gordon Fox Says

By
On Top Magazine Staff


Published: November 04, 2012

Rhode Island House Speaker Gordon Fox said Saturday that the House would vote on a gay marriage bill in January.

Fox made the pledge to a group of supporters gathered at the restaurant Blaze in Providence. He said the legislation would come up for a vote "during the third or fourth week of January."

Fox, who is openly gay, first announced during the summer that he would call a vote next year if re-elected to his post.

Click here to read the complete article.
---
Nevada To Consider Repealing Gay Marriage Ban

By
Carlos Santoscoy


Published: September 10, 2012

Nevada lawmakers are expected to consider a bill which would repeal a 2002 constitutional amendment banning gay marriage in the state.

Assemblyman Elliot Anderson, a Democrat from Las Vegas, announced that he will introduce a bill in February which would begin the process of repealing the ban.

Nevada is the only state which requires that a citizen-initiated amendment be voted on twice. An overwhelming 69.6 percent of voters first approved Question 2 in 2000. Support dropped slightly to 67 percent for the second and final vote in 2002.

Anderson told the Las Vegas Sunthat he believes attitudes on the issue have shifted since 2002.

Click here to read the complete article.
---
The Faces of Family are everywhere. They are the common thread that runs through us all. Regardless of color, race, spiritual belief, love orientation or political persuasion, we all share a family heritage.
The Wedding Party is proud to announce The Faces of Family project! The Faces of Family project will continue The Wedding Party's promise to provide the media and the world with the honest and provocative truth about same-sex relationships and families.
How can you be a part? Send us your story! Tell us about your family and why it is important. Tell us what family means to you and how your understanding of marriage was affected by your experience of family. Send us your picture and we will tell your story.
The Faces of Family Project is raising funds to send the message to Albany to leave no family behind and that all families deserve protection through marriage. Click here to contribute to our Faces of Family Project.
Values Are For Everyone
Elizabeth Grosse - Mother and Friend
My son Charlie was an ordinary man who lived an ordinary life. But to his family and friends, he was extraordinary. The fact that he was gay was only a part of who he was, what was really extraordinary about him was that he was funny, and had a big heart. He was a man that could make you laugh until tears rolled down your face, and when he befriended you, he loved you wholly and completely and his loyalty had no boundaries. Just when Charlie had found someone whom he really loved and wanted to spend his life with, he died rather tragically.
Click here to read her complete story!
---
Community Bulletin Board
Marriage Equality Event Schedule
Check here for Marriage Equality USA events!
Click here for event information!
---
Faces of Family Postcard Project
Send us a self-addressed stamped envelope, and we will send you 2 photo postcards at no cost!
These simple but effective tools allow you to affix your picture to the postcard and tell your story to whomever you wish. Just mail your request to:
"TWP Postcard Project" 332 Bleecker St., #d24 New York NY 10014
A picture of your family will tell a thousand words, if you let it. So let us help you tell your story. Send us a SASE today!
Gay Marriage in the Year 100 AD
By Annalee Newitz - i09.com
Gay marriage sounds like an ultra-contemporary idea. But almost twenty years ago, a Catholic scholar at Yale shocked the world by publishing a book packed with evidence that same-sex marriages were sanctioned by the early Christian Church during an era commonly called the Dark Ages.
John Boswell was a historian and religious Catholic who dedicated much of his scholarly life to studying the late Roman Empire and early Christian Church. Poring over legal and church documents from this era, he discovered something incredible. There were dozens of records of church ceremonies where two men were joined in unions that used the same rituals as heterosexual marriages. (He found almost no records of lesbian unions, which is probably an artifact of a culture which kept more records about the lives of men generally.)
Click here to read the entire article.
OMG
Seriously? What Marriage Equality Opponents Are Saying
July 15, 2014 - purpleunions.com
Here's the latest in our ongoing series of some of the crazy things the anti-gay marriage equality opponents are saying and doing around the world.
Gay Marriage is Like Terrorism and Mass Shootings
At a revival event this week, Bob Vander Plaats, the man most single-handedly responsible for driving the GOP to the far right for the Iowa primaries, showed a video showing the "darkness" in America that calls for a spiritual revival.
Read On - There Is So Much More...
Click here to read more.
Box of Intolerance
Fred Phelps Sr., founder of Westboro Baptist Church, dead at 84
GayCityNews.com, March 20, 2014
BY PAUL SCHINDLER - Fred Phelps has died at age 84. Many people first learned of the Reverend Fred Phelps in late 1998 in connection with the funeral of Matthew Shepard, the gay college student brutally slain in a Laramie, Wyoming hate crime - though Phelps had been up to no good long before that.
When Shepard's family announced plans for his October 16 funeral in Casper, Wyoming, his hometown, Phelps warned that he would be there, along with his congregation, the Westboro (Kansas) Baptist Church, to picket because Matthew was gay. The church's online home is at GodHateFags.com, a phrase its members routinely write on posters they carry while picketing, so Phelps' warning to the Shepard family suggested far worse than simple garden-variety ugliness.


Click here to read more.
Human Rights Watch
Two Gay Men Killed By Hanging in Iran Gay Star News, August 13, 2014 Two gay men were hanged in Iran this week, according to reports. Abdulla Ghavami Chahzanjiru and Salman Ghanbari Chahzanjiri were killed on 6 August, according to at least one report, for 'consensual sodomy'. Other reports are not specific about the 'crime' committed by these two men, but describe them as 'immoral villains'.
Click here to read the entire article.
Obama to Extend Protections for Gay Workers
By Julie Hirschfeld Davis, New York Times - 7/18/2014 -
WASHINGTON - President Obama plans to sign an executive order on Monday barring discrimination against gay, lesbian, bisexual and transgender employees of companies that do federal government work, according to White House officials. But it will not include a religious exemption many faith organizations had requested, the officials said.
The order would also for the first time explicitly protect federal employees from discrimination on the basis of gender identity.
After a setback in the Supreme Court in the Hobby Lobby case, Mr. Obama was facing pressure from religious groups demanding to be excluded from the long-promised executive order.
A group of major faith organizations, including some of Mr. Obama's allies, had said he should consider adding an exemption for groups whose religious beliefs oppose homosexuality. In Burwell v. Hobby Lobby Stores, the court ruled that family-run corporations with religious objections could be exempted from providing employees with insurance coverage for contraception.
Click here to read the entire article